Shandong Taikai Power Engineering Co., Ltd. is here to serve you wholeheartedly!
VTK-15/T5000-63F Indoor Vacuum Generator Circuit Breaker
---
VTK-15/T5000-63(F) HV indoor vacuum generator circuit breaker is installed between generator and transformer, for controlling and protecting generator. It simplifies the switchover program for station power and provides convenience for genset debugging and maintenance. It has been widely used in thermal power plant, hydropower plant, nuclear power plant, pumped-hydro energy and other new stations or the reform of ageing power stations. It could also be used for control and protection switches of equipments for large-scale substaions, high-load electro-industrial and mining enterprises. The breaker conforms to GB/T11022-1999, GB311.1-1997, JB3855-1996, JB/T8738-1999 and DL/T427-2000.
CONTACT
---
Service and Installation Conditions
Ambient temperature: -10℃~+40℃ (It is allowed for storage and transportation under -35℃)
Altitude: ≤2500m
Humidity:
Relative humidity at average per day (25℃): ≤95%
Relative humidity at average per month: ≤90%
Saturation vapour pressure: Daily average ≤ 2.2×10MPa
Monthly average ≤1.8×10MPa
It is possible to form condensation, when the temperature decreases suddenly in high
humidity period.
Seismic intensity: 8°
Keep the breaker away from places with combustible, explosive, corrosive materials and violent vibrations.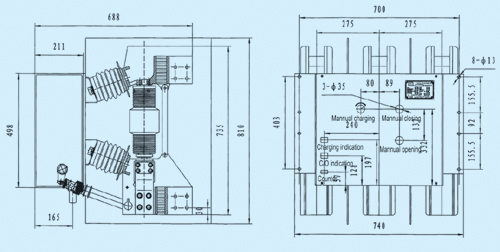 COMPANY INFO

Name:Shandong Taikai Power Engineering Co.,Ltd

Address: Taikai Industrial Park, High-tech Zone, Taian city, Shandong Province

Tel:86-538-8625668

Web:www.tk-electric.com