Shandong Taikai Power Engineering Co., Ltd. is here to serve you wholeheartedly!
SCBH10 Series Amorphous Alloy -Dry Tramsformer
---
Features of amorphous metallic material: As a late-model material with great magnetoconductivity, it adopts processing technology of partial rapid cold-set. Its physical condition is metal atom with disorder amorphous arrange. It is totally different with the crystal structure, which is good for magnetization and deperm. Compared with GB/T10228, no-load loss of amorphous metallic dry-type transformer is 75% and less, and on-load loss is 15% and less, which is the most advanced energy-saving dry-type transformer.
CONTACT
---
Service and Installation Conditions
The maximum temperature:+40
The maximum monthly average temperature:+30
The maximum yearly average temperature:+20
The minimum temperature:-5
Elevation: 1000m
Power voltage waveform: power voltage waveform approximate sine.
The installation site should avoid serious pollution.
For indoor use.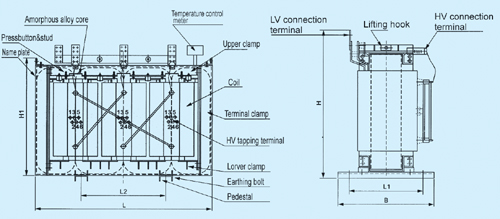 COMPANY INFO

Name:Shandong Taikai Power Engineering Co.,Ltd

Address: Taikai Industrial Park, High-tech Zone, Taian city, Shandong Province

Tel:86-538-8625668

Web:www.tk-electric.com