Shandong Taikai Power Engineering Co., Ltd. is here to serve you wholeheartedly!
KYN61-40.5 Metal-clad Movable Switchgear
---
The enclosure is assembled after bending the aluminum-zinc steel-sheet which connected via high-strength bolts and riveting nuts, with panel spray coating.Realize lock-door operation: All the normal operations inside the cabinet such as circuit breaker, earthing switch and etc, are carried out under lock condition of HV disconnector door. Each miniature functional compartments of the switchgear is packed via metallic baffle, and pressure release passage is set individually.The insulation method of busbar applies thermal pyrocondensation insulation material and epoxy painting, optimize the electrode shape, thus the cabinet structure is compact, and correspondingly the occupied area is reduced.
CONTACT
---
Service and Installation Conditions
Ambient temperature: -15℃~+40℃
Altitude: ≤2000m
Humidity: relative humidity should be within 95% daily at average
relative humidity should be within 90% monthly at average
Earthquake: seismic intensity should be within 8 degree.
There should be no deadly corrosive and inflammable pollution
Additional consultation between the user and the manufacturer should be needed, if the switchgear is to be operated in the conditions not in conformity with the above ones.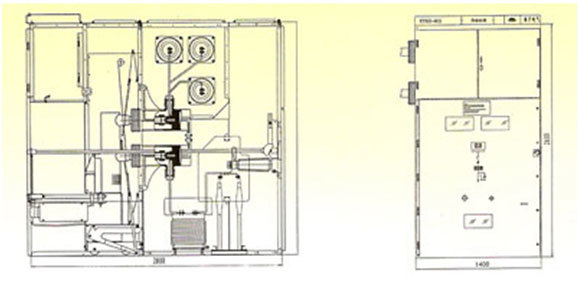 COMPANY INFO

Name:Shandong Taikai Power Engineering Co.,Ltd

Address: Taikai Industrial Park, High-tech Zone, Taian city, Shandong Province

Tel:86-538-8625668

Web:www.tk-electric.com